new folder created -
2007 Race Season Events
- self-explanatory really
.
the first event story in there is:
402 Street Race - Mostar (BIH) - 28/Apr/07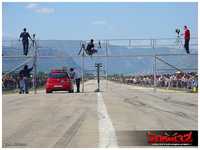 1st round of qualifications: against friend's 405 Mi16, the 205 Mi32 ran 14.13 secs
(including reaction time) with quite a bit of potential left, which qualified us for
the 14 secs class, which was what we wanted.
2nd round of qualifications: lined up against a 282 n/a bhp Civic. setting off on
red-light so we'd get an ET for a full throttle run without reaction time, but still
stay in the 14 secs class. The result was 13.42 secs - pretty much what we had been
expecting a year ago when we started the project.
1st round of race: against a mk1 Golf VR6 with NOS - my father messed up a gearchange
into 2nd gear, but still gave the golf a run for his money and made him break into
13 secs class while we continued competing in the 14 secs class.
2nd round of race: against a very fast mk1 Golf with an unknown engine - my father
wasn't lined up properly and thus triggered the red light with the smallest of car
movement, before he actually got to start. we placed an appeal but in the end they
didn't make a re-run so that was the end... pretty crap way to end it but that's life
.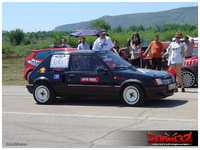 anyway, all-in-all, we're sattisfied with the result, seeing it was only a single try
and we actually still had a little bit of problems with front clutch slipping and rear
throttle not opening fully, which together with a few tweaks should see the car run
very low 13's (without reaction time) on the next race!
you can see the full picture story (with 40 pics) on
THIS PAGE
.
video of 205 Mi32 in action coming very soon!
thanks.